SCANNER FOR LARGE AREAS AND MULTIPLE LAYERS OF CONCRETE
Hilti PS 1000 X-Scan Detection System
Our Hilti PS 1000 X-Scan can scan wide areas of concrete and detect objects in multiple layers of concrete.
It can detect hidden rebar, pre and post-tensioned tendons, metal and plastic pipes, wood, electric and glass fiber cables.

KEY FEATURES OF THE PS 1000 X-SCAN SYSTEM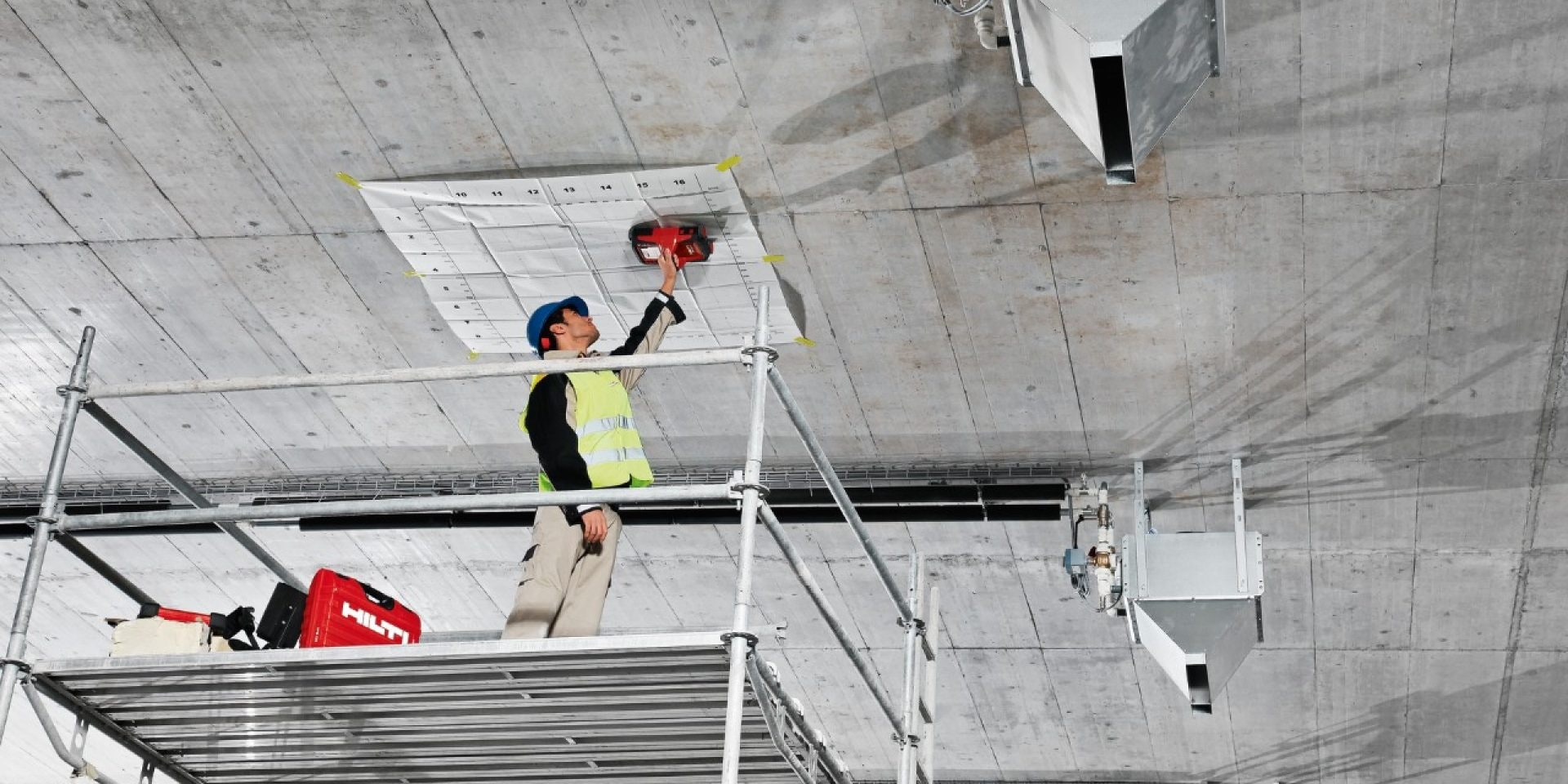 Scans up to a depth of 40 cm in dry concrete.
 Equipped with three radar antennas and an EM sensor to give real time 2D and 3D color images on its X-Scan display of any embedded object, and clear indication on electrical conduit in high resolution. This means you can mark up embedded objects, which you've detected, on the spot.
Includes drill hole indicators with true diameter in top and cross section views.
You can export scan data directly into a laptop or computer for more detailed analysis, to create and print reports and archive data.
Our Hilti PS 1000 X-Scan Detection System includes a cordless scanner, tablet and PC software.
It has 2 scanning modes. Use Imagescan to scan large areas of concrete in a grid pattern to get an easy to read plan view image. Use Quickscan for a quick scan, making it easy to mark up a jobsite on the spot.
COMBINE WITH HILTI PROFIS SOFTWARE FOR DETAILED ANALYSIS
You can export scan results to our Hilti PROFIS Detection software for a more detailed analysis of your scan. This provides:
Full data processing into 3D models, including 2D and 3D plan views or cross-sectional images.
Combine data from our Hilti PS 250 Ferroscan Detection System with X-Scan data for depth calibration and material classification.
Grid coordinate entry, distance markers and drill hole markers including export function.
Export to Hilti PROFIS Anchors software and 3D model software, such as AutoCAD, Trimble, SketchUp, Structures and Revit.
Create a wide range of reports and documentation.
More information on PROFIS Detection Service

REQUEST A FREE ONSITE DEMONSTRATION
Contact us to request a free demonstration or find out more information. We're happy to help onsite, online and on the phone.