ALL-IN-ONE ANCHOR DESIGN SOFTWARE
Maximise your productivity by designing steel to concrete connections as a whole
The PROFIS Engineering Suite makes tackling even the most complex and challenging anchoring projects easier.
The state-of-the-art software handles calculations and analysis of the different elements of a steel to concrete connection including base material, steel plate, anchors, weld and stiffeners with easy iteration and thorough documentation - all from one cloud-based tool.
User Experience Sharing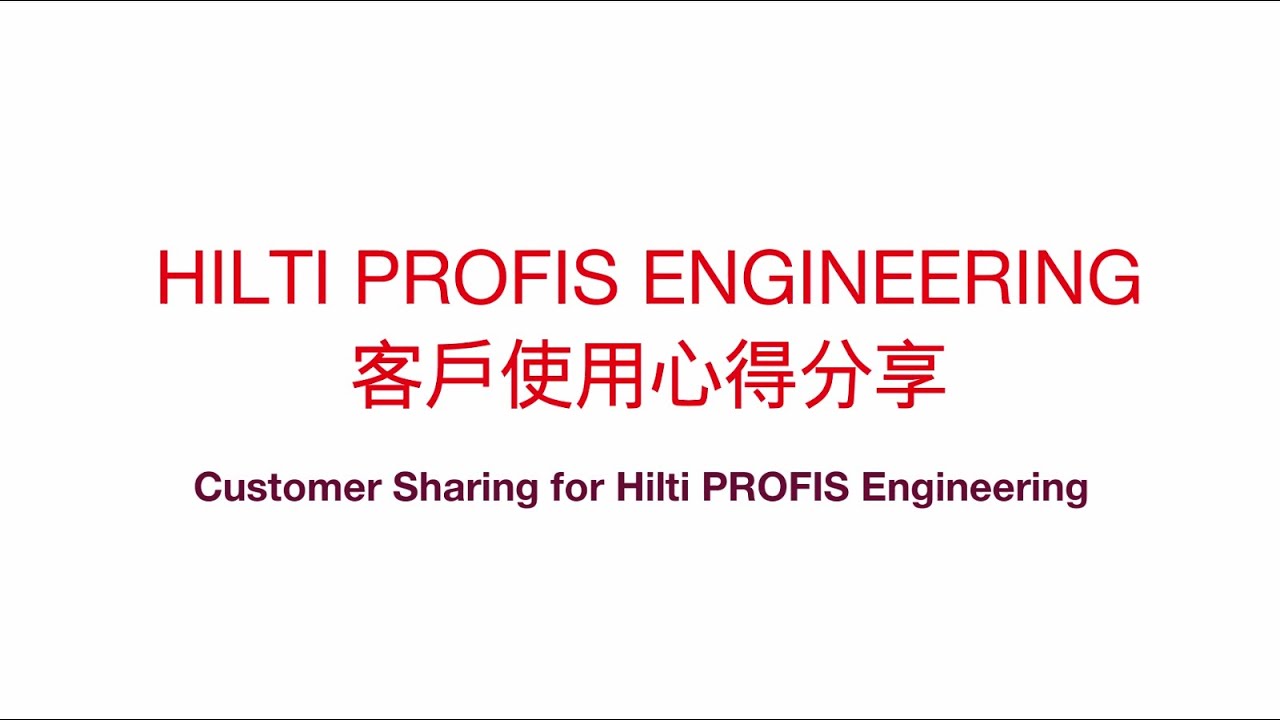 ADVANTAGES OF PROFIS ENGINEERING ANCHOR DESIGN SOFTWARE AT A GLANCE
Reduce design time
Combine anchor and baseplate calculations to reduce overall design time.
Improve accuracy
Ensure your specifications are right the first time. Automatic load transfers, simultaneous multiple load combination processing, and BIM / CAD model generation all help to reduce errors and rework.
Increase efficiency
Integrated data sharing in a single platform grants every stakeholder immediate access to the most up-to-date design files and reports. This helps to improve transparency, remove communication logjams and increase efficiency.
EVERYTHING YOU NEED, ALL IN ONE ANCHOR DESIGN SOFTWARE PACKAGE
Comprehensive calculating
Anchoring in concrete and masonry capabilities make it easy to complete your entire baseplate connection in one simple software.
Automated product selection and bill of materials
A product recommendation engine suggests the right solution for every connection. This is followed by a complete bill of materials making a quick and easy checklist to make sure your design is installed as you intended.
Cloud-based plattform
An integrated cloud-based platform keeps stakeholders connected and data up to date. It also means you can access your designs from any device in any location, even on the go.
Tekla interface
Easy transfer of data into Tekla software to enable users to create and manage 3D structural models in concrete or steel without complications or re-work.
Flexible reporting
Customisable reporting allows you to produce accurate, comprehensive, and personalised reports for your unique projects.
Expert support
In-product step-by-step tutorials and on-demand engineering support mean you never have to address complex design challenges alone.
Learn more about the tips of Profis Engineering to improve your design efficiency
WHY UPGRADE TO PROFIS ENGINEERING?
See how PROFIS Engineering compares to Profis Anchor 2
PROFIS Anchor 2 software was cutting edge at the time of it's launch, however the  industry has moved on significantly since then, both in terms of standard practice and technology. By working closely with our customers we've developed the new PROFIS Engineering software suite to tackle the most common design challenges in our industry with the time and cost saving benefits of being able to design steel to concrete connections as a whole. What's more, PROFIS Engineering is fully compatible with the industry's leading structural and BIM software Tekla, making data transfer and 3D modelling much more straightforward.
SELECT THE RIGHT PROFIS ENGINEERING SOFTWARE LICENCE FOR YOU
Stand-alone license - premium version for individuals
1 user
Only one named user access at a time per license
Yearly fee: TWD 7,500
Floating licence - best for medium-sized companies
Up to 5 users
Only one user access Premium version at a time per license, the rest users are able to access Standard version
Yearly fee: TWD 12,000
Comparing PROFIS Engineering Suite Version
| PROFIS Engineering Suite Functionality | Standard (Free) | Premium (Paid) |
| --- | --- | --- |
| Cloud-enabled access and file sharing via desktop, tablet or smartphone | ✓ | ✓ |
| Multiple ACI and Taiwan Codes | ✓ | ✓ |
| Detailed anchor design reports | ✓ | ✓ |
| Post-installed anchors | ✓ | ✓ |
| Rigid base plate analysis | x | ✓ |
| Weld/stiffener analysis | x | ✓ |
| Multiple load combinations | x | ✓ |
| Import loads from Excel | x | ✓ |
| Customizable reports | x | ✓ |
| Quick exporting to BIM/CAD | x | ✓ |