Constant water supply and a clean jobsite during drilling
The new way of diamond drilling with DD-WMS 100 Water Management System

We know that diamond drilling involves many time consuming repetitive steps, of which the actual drilling process may be one of the shortest. Keeping the jobsite clean and maintaining a constant water supply often occupies much more of your time and reduces your productivity. With our new DD-WMS 100 water management system, these tedious tasks become a thing of the past.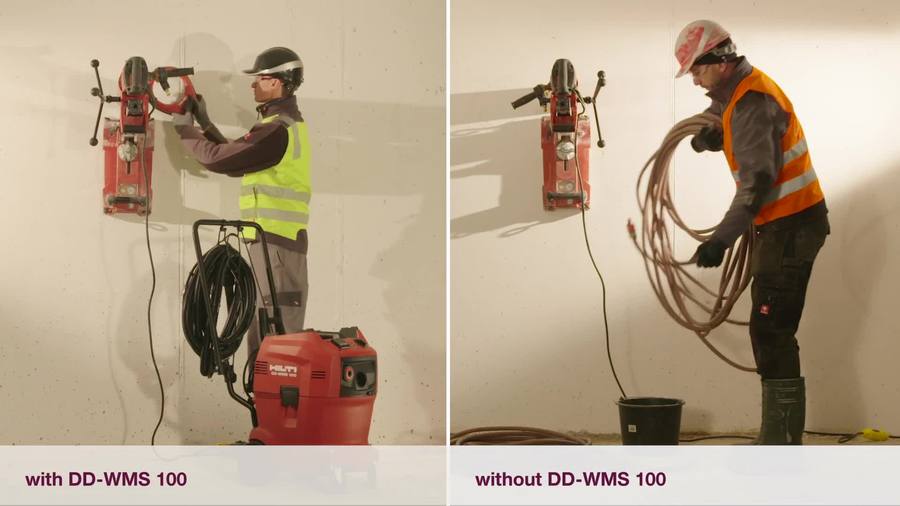 One full day of water autonomy
All you need to do is fill up the water tank and insert a filter bag. As the water is recycled up to 7 times, this is equivalent to about 100 l of continuous water supply. The large wheels and convenient handle bar make it easy to move the DD-WMS 100 around on the jobsite. 
Clean drilling
Dust and slurry often lead to additional labor time spent on cleaning up, decreasing your jobsite productivity even further. With our range of water collection accessories for diamond drilling machines, we can help you save time and money.
Diamond drilling is no longer a messy job!

Easy slurry disposal
Once the filter is full and suction power begins to drop off, it's extremely easy to get rid of the slurry with the disposable filter bags. The DD-WMS 100 is compatible with all of our other Hilti diamond drilling machines, so it's one appliance for all applications.
Filtration process
The patented multi-layer filter bags of the DD-WMS 100 are especially designed for collecting drilling slurry. Slurry collection reaches maximum capacity during the filtration process thanks to the effective use of the filter's surface. Our water management system has three modes of operation: recycling mode, vacuum cleaning mode and water supply mode.

Recycling mode