Green beam multi-line laser for horizontal and vertical alignment
Aligning, plumbing, squaring and leveling made easy with the Hilti PM 40-MG
Thanks to its extremely high accuracy, outstanding line visibility and quick battery charging, Hilti's latest laser tool, the PM 40-MG, has now become the new standard in multi-line lasers.
This versatile all-in-one laser with its four vertical lines at perfect 90° angles to each other and a 360° horizontal line, is really all you need for your interior applications.

Ideal for working at distances of up to 20 m, it's suitable for leveling suspended ceilings, setting out drywall track on floors (squaring), walls or ceilings, transferring reference heights and aligning pipes as well as doors and windows.
The PM 40-MG is the latest addition to the Hilti green laser family which already includes the compact PM 2-LG dual-line laser, PR 3-HVSG rotating laser with enhanced head protection and PRI 36 long-range rotating laser with automatic functions.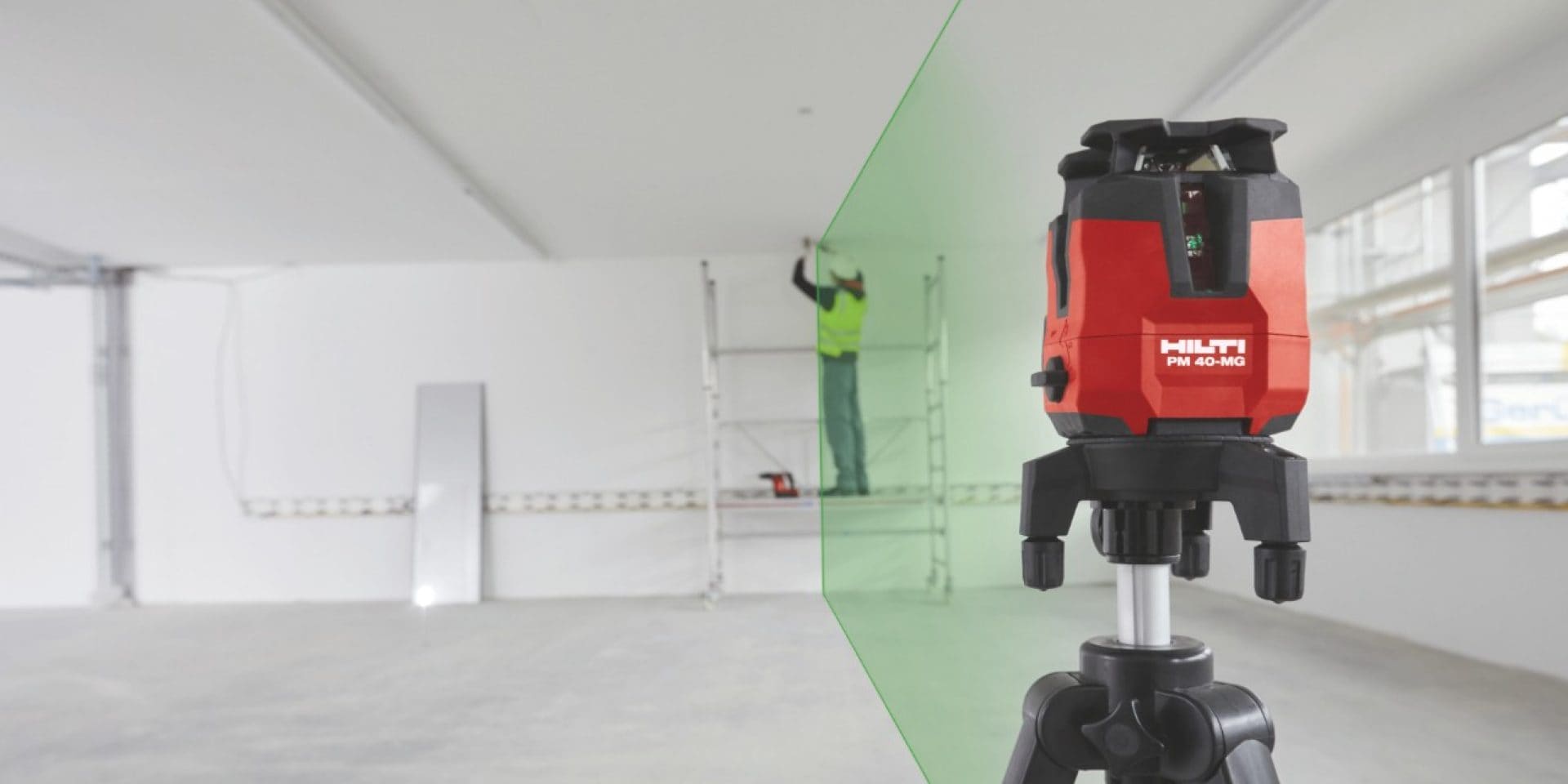 Outstanding visibility 
The latest green beam technology delivers a difference you'll see instantly. We know that all lasers look amazingly bright in a dark room, but in strong sunlight or under powerful electric light, only the very best perform well. The brilliant green laser beam of the PM 40-MG is 4 times more easily visible to the human eye, sharper and finer than conventional red laser types and delivers significantly better results with greater convenience when working over long distances or in bright environments.
High precision

A rotating platform makes fine adjustment of the vertical line around the plumb point easier, more accurate and quicker for alignment over long distances. 
The sturdy tripod keeps the PM 40-MG steady under real jobsite conditions such as on uneven and dusty floors, even where there are bumps and holes. Thanks to its adjustable, rubber-covered feet, the tripod compensates for rough surfaces or other obstacles and helps avoid damaging sensitive surfaces.
New technology
Hilti's newly developed metal blade technology, which keeps the axicon lens firmly in place, provides long-term stable accuracy even under the most demanding environmental conditions such as extreme temperatures and humidity.

RECHARGEABLE BATTERY AND STEADY PERFORMANCE
Hilti's commitment to the environment starts with rechargeable batteries and battery recycling. 

The PM 40-MG employs the same battery pack and charger utilized by other Hilti tools, so users travel light between jobsite locations and tasks. Featuring high-density cells and a smart monitoring system that individually controls the charging of each cell to protect the battery from overheating, our new B12 V battery platform gives you the benefits of optimal performance and fast charging.

Only 25 minutes of charging time provides up to 7 hours of operation with all laser lines! Better still, if you use only the vertical lines or only the horizontal lines, running time is extended to up to 14 hours – giving you operational autonomy for more than a full day!