HOW TO WORK MORE SAFELY WITH HAND-HELD ELECTRICAL SAWS
Hilti health and safety training for construction sites
Lots of people have hand-held electrical saws, so they must be easy to use, right? Maybe that's the problem – it looks so easy, but when used carelessly or incorrectly, these saws can present significant safety risks.

The blade of a hand-held circular saw rotates faster than the blade of a table saw. Its outer edge spins at about 190 km/h, so the potential for serious damage or injury if used recklessly is high.
Our comprehensive safety training provides an overview of the risks, explains how to avoid them and details the safety features of Hilti hand-held electrical saws.
WHY TAKE THE COURSE
As an employee, for your own safety and that of bystanders, it's important to understand how to avoid accidents.
As an employer, it's important to understand your legal obligations to assess and reduce risks onsite and the need to train your employees to avoid such risks.
This training course is a practical hands-on session, tailored to your needs and providing tips on handling the type of hand-held electrical saws you use.
At Hilti, we have decades of experience working onsite with our customers, all over the world, every day.
We understand the dangers and challenges faced on construction sites and know what it takes to minimize risks to the greatest possible extent. Our trainers are certified specialists with longstanding experience.

WHAT CAN I TAKE AWAY FROM THE TRAINING
Increased competence in handling these tools and hence the ability to achieve higher productivity
Fulfillment of legal requirements
Greater safety awareness and therefore fewer jobsite risks and potential insurance claims
A good safety record and regular safety training adds to your image as an attractive employer
A training certificate for each participant 
WHAT'S INCLUDED IN THE TRAINING
Insight into the potential hazards of industry-related applications
An overview of the safety features of hand-held electric saws
Instruction on correct operating procedures and safety precautions
Training on prevention measures based on the STOP (Substitution, Technical measures, Organizational and Personal protective equipment) principle
An introduction to the code of conduct and rules to be applied in case of accident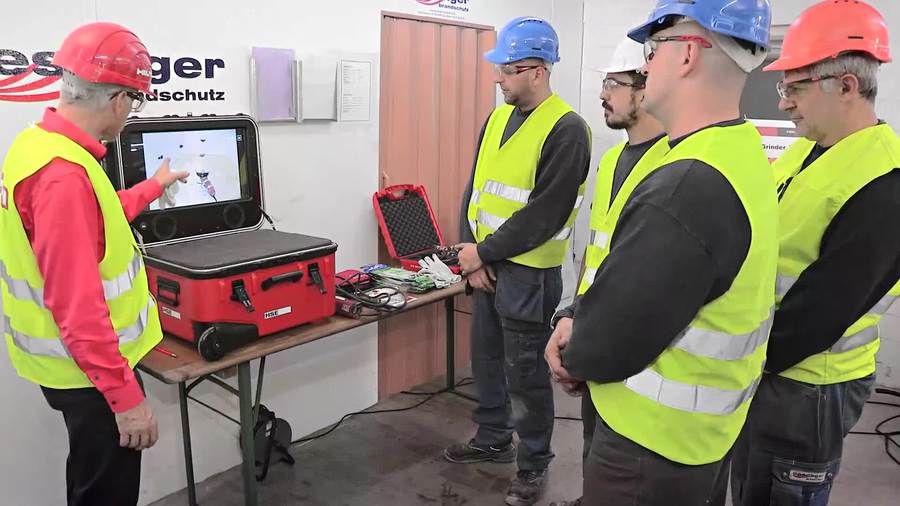 | Offering and structure of the training |   |
| --- | --- |
| 1. Target Group | Workers, foremen, HSE experts |
| 2. Trade | All |
| 3. Duration | 1 hour |
| 4. Number of Participants | Up to 8 |
| 5. Documents | xx |
| 6. Certificates | Yes |
| 7. Dates | On request |
| 8. Location | Onsite in your company or at Hilti Center on request |
| 9. Price | xx |
HOW DO I SIGN UP FOR THE TRAINING
Contact your local Hilti team for more details of how to sign up for your own customized training or how you can join a group training session near you.